In Dibba, Fujairah, The Emirate Arab (UAE), CKDA, member units of LICOGI is implementing the contract of fabrication, supply and erection the space frame of the circular limestone storage, Fujairah Cement Industries Co.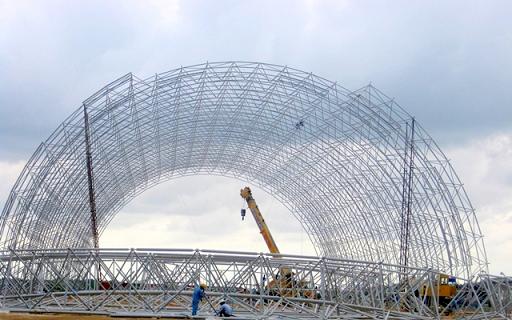 Space frame made in Vietnam in UAE
Estimated volume of the entire project (excluding roofing) is 392 tons with a value of $800,000. CKDA sent nine experts to supervise the erection at the site. Recently, the LICOGI delegation led by Chairman and CEO Vu Tien Giao had a trip to UAE and visited the construction site.

During this trip, the delegation visited and encouraged the CKDA engineers working in the UAE and had a meeting with UAE partners. The two sides discussed various issues to develop cooperative relationships. This space frame is an important and great landmark in the development of the brand CKDA in particularly and LICOGI generally in UAE market.
By: Construction Press